---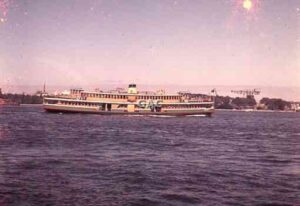 Name
SS Kanangra (later MV Kanangra)
Operators
• Sydney Ferries Limited
• Sydney Harbour Transport Board
• Public Transport Commission
• Urban Transit Authority
Port of Registry
Sydney
Builder
Mort's Dock – Woolwich, Sydney Australia
Launched
1912 (Kanangra: 14 August)
Out of service
1985
Tonnage
295 tonnes
Length
45.7m
Beam
Decks
9.7m
2
Propulsion
Triple-expansion steam and 2 coal fired gunboat boilers. Crossley diesel from 1959
Capacity
945
History
Kanangra was one of two ferries launched in 1912 for service on Sydney Harbour. Kanangra and her nearly identical sister Kirawa plied the ferry routes during the boom years of Sydney Ferries Limited, prior to the building of the Sydney Harbour Bridge.
She was one of only four steel-hulled "K-class" ferries (the majority of the type were timber-hulled) and they were among the largest of the Sydney Ferries Ltd fleet.
At 45 metres in length and with a passenger capacities of over 1,000, Kanangra mainly served the busy Circular Quay to Milsons Point route prior to the opening of the Sydney Harbour Bridge, and later the Cremorne and Mosman routes.
Kirawa was decommissioned in 1953, and Kanangra in 1985. Kanangra is now part of the Sydney Heritage Fleet and is moored at Rozelle Bay undergoing restoration. It is the last remaining ferry built for Sydney Ferries Limited in the early twentieth century pre-Sydney Harbour Bridge peak.
Sydney Ferries Limited generally choose Australian Aboriginal names for the early twentieth "K-class" steamers. "Kanangra" is thought to mean "beautiful view".
Design and Construction
Unlike the previous K-class ferries that were timber-hulled, the near identical Kanangra and Kirawa were riveted steel hull vessels with timber decks and superstructures. Built by Mort's Dock at their Woolwich yard for Sydney Ferries Limited, Kanangra was launched on 14 August 1912 and commissioned in January 1913. As built, she was provided with 68-hp triple expansion coal-fired steam engine that pushed her to 13 knots, quite fast for Sydney ferries of that era. As with all the K-class and Manly ferries built at the time, they were double ended ferries with wheelhouses, propellers and rudders at both ends. Kanangra was the second largest inner-harbour ferries operated on Sydney Harbour with only the Manly ferries and 1922's Kuttabul and Koompartoo being significantly larger.
Service Life
As one of the largest ferries in the fleet, Kanangra primarily operated on the most heavily-patronised services; initially the Circular Quay to Milsons Point services until the Harbour Bridge opened in 1932, and then on the worker's services to Cockatoo Island and later Mosman and Taronga Zoo services. Demand for ferry services across the harbour were booming in the early 20th century, and in 1911, Sydney Ferries Limited had begun services to the new Cremorne Wharf with new tram connection.
Kanangra and her sister Kirawa were kept in service after the 1932 opening of the Sydney Harbour Bridge whereas many vessels were decommissioned due to the drop in demand. Prior to the bridge opening, Sydney Ferries Limited had transported 40 million passengers a year, which dropped to 15 million after the opening. The drop in demand for the remaining ferry fleet, including Kanangra was somewhat mitigated as many could not afford their own transport in the Great Depression of the 1930s and rationing of fuel during World War 2 made the coal required for the steam ferries relatively cheap.
In 1951, as the demand for ferry services dropped further to 9 million following the end of the war, the NSW State Government took over Sydney Ferries Limited and its remaining fleet and assets. The Port Jackson and Manly Steamship Company, which ran the Manly service, was paid to run the services. The services and fleet were quickly rationalised with most of the larger remaining timber K-class steamers being decommissioned. A number of the smaller coal burners were being converted to diesel (including Kameruka and Kosciusko).
Kirawa was laid up at the time in need of new boilers. As there was no longer need for two large ferries, she was sold to be broken up in 1953. Hulked, Kirawa was renamed Demolisher and, along with the stripped-down Manly ferry Balgowlah, was used in the demolition and removal of the old Iron Cove Bridge.
Kanangra was taken out of service in 1951 for a major refit and was returned to service in 1953. She was too costly to replace, plus many other surplus ferries were being scrapped. On 1 May 1959, she made her last trip as a steamer on the 5:35 Circular Quay – Mosman – Cremorne run. She was converted to diesel power with a single direct coupled eight cylinder Crossley HRN engine driving a fore and aft propeller. Her tall smoke stack was replaced with a smaller exhaust funnel, and the boilers became the fuel tanks. She was the last of the Sydney Harbour steam ferries to be converted to diesel. The ferry's re-entry to service allowed the last of the coal-fired steamers, Kubu, to be retired. Kanangra participated in the "Great Ferry Boat Race" during the early and mid 1980s.
Retirement and a Future with Sydney Heritage Fleet
One of the longest-serving ferries on Sydney Harbour, Kanangra was withdrawn from service in 1985 and moored at Cockatoo Island. A plan to restore her as a steam powered vessel as a Bicentennial project in 1986 were dropped due to high expense. She was then donated to the Sydney Maritime Museum (now Sydney Heritage Fleet) that same year.
Kanangra was painted into her original 1950s colour scheme by our volunteers while berthed at the original Sydney Maritime Museum site at Birkenhead Point, and then on 15th January 1988 she was relocated to Sydney Seaport in Cockle Bay and placed on display.
In November 1994, Sydney Heritage Fleet moved out of Cockle Bay and Kanangra relocated to their workshop site in Rozelle Bay. Here she lay in a holding pattern for the next 7 years awaiting her turn for restoration activities to begin.
The Kanangra Restoration Committee was established in 2001 and has worked hard since that time raising the profile of the vessel, building up a volunteer workforce and seeking both short and long term funding. Since this time, a great deal of work has now progressed in the restoration of Kanangra's timber superstructure.
In 2009, Kanangra was placed on the Australian Register of Historic Vessels.
Now 110 years old, the condition of Kanangra's hull has been a great concern for the Kanangra team for many years. An ultrasound hull survey was first conducted in 2002 and an urgent program of hull stabilisation has since been completed. This has included the installation of cement boxes along with foam and plywood to create extra layers of protection on the inside of her old steel plating (In effect, we lined her hull with an inner skin and extra protection and floatation). The team also set up a comprehensive protective bilge pumping system with back to base alarms to monitor for and remove any water ingress. Up to now thankfully this has only been triggered by freshwater during heavy rain events.
SHF made a decision in late 2020 to speed up the completion of hull restoration for the steamship John Oxley and refloat her as soon as possible. This would then free up the Sea Heritage Dock to take Kanangra out of the water. Since that time we have been working very hard to prepare both Kanangra and John Oxley for what we have called 'the SWAP'.
In early April 2022, the next stage of Kanangra's amazing history will begin when she is placed aboard the Sea Heritage Dock to commence the long-awaited restoration of her hull. SHF plans to restore the vessel back to her 1959 diesel conversion period. Once finished Kanangra will take pride of place on Sydney Harbour as the last example of the 'K' Class Sydney Ferries that transported generations of commuters throughout most of the 20th Century.
Once Kanangra is high and dry, we will need your help to take the restoration to the next stage. Your support will enable vital restoration work to continue – To help, please click on the donate button. If you would like to get involved in some other way, please contact us.
The swap project summary/timetable
1st April – John Oxley/SHD towed to Garden Island Dockyard for refloat
3rd April John Oxley now afloat towed to temporary berth at White Bay
Date TBC – When SHD prepared, Kanangra towed to GID and docked
12 April – TBC – Kanangra on SHD towed to Rozelle Bay
---
Follow us on Facebook https://www.facebook.com/Kanangra.sydneyferry
or Instagram
https://www.instagram.com/Kanangra_historic_sydney_ferry/
to keep up to date with Kanangra's journey.
See our Youtube Channel:
Press launch
To be published
---