Maritime Records & Research Centre
Records of the Sydney Heritage Fleet's collections are maintained by the Fleet's Maritime Records & Research Centre. The collections include a range of items, which have been assembled over a period of forty years. The collections continue to grow, mainly as a result of items of maritime interest being donated by committed individuals.
The Centre is staffed entirely by Fleet volunteers and is able to respond to a wide range of enquiries and search requests from individuals and organisations. This service is based on material held in the Centre which generally relates to Australian subjects with particular emphasis on New South Wales and Sydney.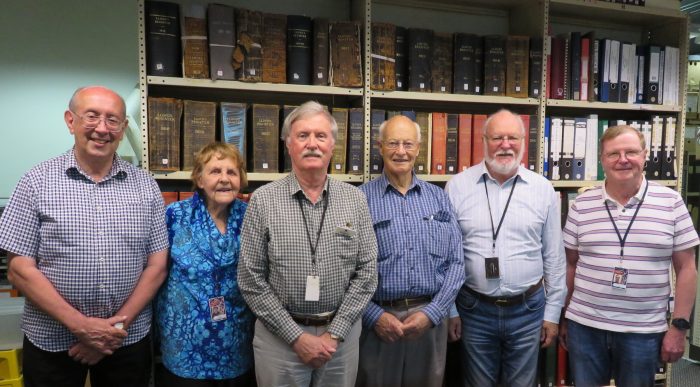 Whilst information can be provided in support of persons conducting genealogical research, the Centre is unable to assist with primary genealogical research. The Centre does not hold passenger lists or crew lists. In special circumstances the archives can be made available to individuals for research purposes. Details of fees are available on request.
The Maritime Records and Research Centre is located at Wharf 7, 58 Pirrama Road, Pyrmont, is open on Mondays, Tuesdays and Thursdays except for public holidays, and may be visited by prior appointment.
For further information contact the Maritime Records and Research Centre's Curator on 02 9298 3850 or [email protected]
The Maritime Records and Research Centre has copies of ships plans covering – fleet vessels, sailing ships, naval ships and merchant ships.
In addition to the Maritime Records and Research Centre's own collection of printed and digital images, the Centre also holds images from ten different donated collections of maritime history.
The Centre has a collection of over 5,000 non-fictional books covering a wide range of maritime subjects providing valuable reference material for research.
The Centre holds a collection of 1,326 documents covering 14 different categories. These categories include: Certificates of Competence, Diaries and Journals, Letters, Logs and Oral History.
The Centre holds a large collection of navigational charts compiled by the British Admiralty, the Australian Hydrographic Service and other international services. Complimenting the collection is a wide selection of Pilot Books (sailing directions) which cover many areas of these charts.
A highlight within the collection is a set of 189 British Admiralty charts of the Australian coastline published in the late 1800's to early 1900's bound geographically into 18 portfolios.
The library contains various atlases along with a variety of sheet maps including the Lloyds Maritime Atlas which provides a geographical list of ports and shipping places worldwide. Highlights of this collection are several handbooks published by the Sydney Harbour Trust in the early 1900's showing the locations of early wharves of the Port of Sydney.
The MRRC's collection includes 609 items such as ship's menus, timetables and souvenirs catalogued by ships' and shipping line's names.
The MRRC has a collection of 1,174 artefact items covering 49 different categories.
A feature of the research centre is thousands of alphabetically organized files that have been compiled over a period of some forty years by the centre's volunteers to aid research in response to public inquiries. These cover individual ships, shipping companies, personalities and a comprehensive range of nautical/maritime subjects.
The Centre has a number of engravings, etchings, sketches, paintings and posters. We also hold a collection of postcards.
The Centre holds copies of analogue tapes (the originals are located at NSW State Library) of almost 100 interviews conducted by the Fleet's volunteers between March 1983 and July 1999 with persons associated with nautical/maritime backgrounds covering boat builders, shipwrights, sail making, yachting, shipping companies, ferries and Sydney Harbour history.